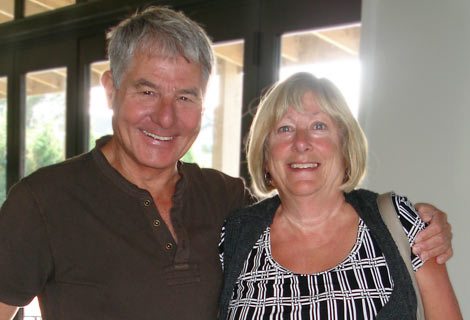 Your hosts at Almyra Waterfront Accommodation are Fiona and Ron. We emigrated from the UK about 20 years ago following a wonderful holiday in New Zealand, when we decided that this was the country for us! We became New Zealand citizens in early 2003 and now have some of our family around us too – daughter and partner and three gorgeous wee granddaughters – who also live in Tasman.
After spending a few years in Wellington we decided to move to South Island and found this very special piece of land on the stunning Kina Peninsula. Kina is very special, being close to the Abel Tasman but also within easy distance of Nelson.
We found an architect who could truly visualise the beauty and what we were trying to achieve here and so we built our amazing house with 360 degree sea and mountain views over Kina about 7 years ago. Its contemporary design and modern features inspire many of our guests who love to enquire about features we have designed here and that can be incorporated in their own house dreams.
We feel very privileged to live in such a wonderful part of New Zealand and take great pleasure in sharing our home and surroundings with our guests – many of whom are now good friends!
Ron is our in-house artist and pastel painter and many of his works are displayed throughout the house.
We have a lot of local knowledge and are very happy to help plan your holiday in the Nelson and Tasman regions: We are happy to recommend and book Abel Tasman activities or plan a day in Nelson or suggest award-winning restaurants and cafes - so you can make the most of your time here in New Zealand and enjoy what Nelson and Tasman have to offer.
We look forward to welcoming you to this beautiful location in New Zealand's South Island,close to the Abel Tasman National Park and Nelson.